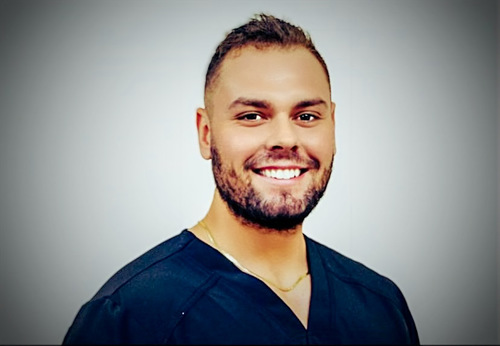 Dr. Nick was born and raised in St Louis and started his journey into chiropractic after graduating from Troy Buchanan High School in 2012. He graduated from Saint Charles Community College in 2015 with an Associate's degree in general education and soon after started grad school at Logan University.
While attending school at Logan University, he attained his Bachelor's degree in Life Sciences and pursued an interest in Functional Medicine and Human Nutrition at the University of Western States. He graduated with his Doctorate in Chiropractic in 2019.
Dr. Nick has worked at multiple pain management and integrated health practices working every day alongside NPs, MDs, and Neurosurgeons.
In Dr. Nicks' free time, he enjoys spending time with his 2 puppies, Kash and Baby Kash. He also enjoys red wine, working out, is a foodie, and enjoys attending community events & supporting other local small businesses.
Dr. Nick values his intensive education background and regularly attends continuing education seminars to ensure that he stays fresh to the current standard of care and learning new things to provide you with the highest level of care available.
Dr. Nick also makes sure that he meets the high standards expected by the professional organizations and memberships that he is active for.
Member American Chiropractic Association (ACA)

Member ACA Council on Sports Injuries and Physical Fitness

Member American Back Society (ABS)

Member Logan College Alumni Association